Marymount Manhattan College
How this student rated the school
Educational Quality
B
Faculty Accessibility
A-
Useful Schoolwork
A-
Excess Competition
B
Academic Success
A-
Creativity/ Innovation
B
Individual Value
A-
University Resource Use
A-
Campus Aesthetics/ Beauty
B+
Friendliness
B
Campus Maintenance
A
Social Life
C
Surrounding City
B+
Extra Curriculars
C
Safety
A
Describes the student body as:
Friendly, Arrogant, Approachable, SnootyDescribes the faculty as:
Friendly, Helpful
Lowest Rating
Social Life
C
Highest Rating
Campus Maintenance
A
He cares more about Surrounding City than the average student.
Date: Jan 01 2016
Major:
Psychology
(
This Major's Salary over time
)
I don't particularly sway one way over the other overall when it comes to Marymount. I like the small class sizes (although my intro psychology class had many students to start out until many dropped the course or stopped showing up), the availability of professors and staff. I didn't know what to expect from college coming right to Marymount straight out of high school. The school was a backup plan for me that I hesitated on committing to because of all the bad reviews I read on it, but August was approaching and I needed a school to attend so that I wouldn't be behind. I am already from NYC so living in the dorms was not really a priority even though I seriously want to have a more traditional college experience. As a psychology major, I didn't feel that the psych department was lacking, however, I have only attended for the Fall 2015 semester and was only allowed to take one psych class for the psych major requirement. I pulled off a 3.6 GPA and I felt challenged by the work I completed. I don't think that the academics are easy, but maybe it depends on who your professors are, the course, and your major. I liked all of my professors and found them approachable and helpful overall (look up ratings of professors before you register for classes). I was allowed to turn in work late to my professors if it was with good reason so that was great. The school staff and peer leaders are always sending out emails on interesting events taking place and club meetings which is great in keeping everyone updated on what's going on. The library is two floors and I found it to be a good place to go for studying, printing out papers, using the computer, or just to relax/chill. You can print out as many things as you want to for free, but the downside is that there are only two printers (both can be used for making copies) so sometimes you have to wait a little bit for everyone to get everything they need. The first floor of the library has many people talking and hanging out, a couple of iMacs and the rest windows desktops, 2 printers, couches to sit on, and tables. If you want/need quiet time that is what the upstairs floor is floor. There is barely anyone up there talking and there are computers and printers available. Overall, the library has always been clean and there has always been someone there to help me if I needed it.The classrooms have been well taking care of for the most part…some look newer than others. There's a TV and computer in each classroom for the professors to use for demonstrations and lecture slides. One of the rooms my classes was in had two loose boards in the ceiling that looked like they were going to fall out at any moment. The air conditioning and heat have worked well in all of my classes. The windows and desks are all in functioning order.The wifi I would give a 3/5 because there were several times where it would cut off even though my device was in perfect range. The wifi didn't work in one of my classes at all which is weird because it even worked when I was directly outside in front of the building or across the street from the school.The main campus is one building that they consider to be two separate buildings. The two buildings are split up by elevators and you can only switch buildings by going all the way to the first floor and using a different elevator. You always have to show/flash your school ID to the security whenever you enter the building. The faculty is building a few doors down the block where I had one of my classes and used the space to study alone, chill out, or use the TV. Both buildings look nice, are clean, are taken care of, and have good heat and air conditioning. There was an incident of bedbugs spreading in a few classrooms of the main building back in October that caused the school to be closed for two days. Emails were sent out to staff and students to let everyone know not to come school those days until the issue was taken care of. Don't even bother sitting on the benches in front of the school because there are always multiple people smoking cigarettes and asking for lighters despite it being a non-smoking zone. I couldn't enjoy sitting out there during my free time while the weather was nice.When it comes to majors and how class went, most of the students are in the performing arts (BFA art/dance/stage). I rarely ran into someone else who was a psych major like myself or an academic major. The only class I personally had where the other students willingly participated was my writing seminar. The other classes were either low energy or students were required to participate. I didn't feel like everyone was competitive with each other when it comes to grades or who was doing well in class. People just came to class and turned in assignments when they were.Diversity and social wise, there is hardly any racial diversity which is weird for a school right in NYC. On my first day of orientation, I felt like I walked into an all-white, all-girls school and I stood out as the only black guy. The school is 80% female, 20% male, and most of the guys who attend are gay. I was the only black person in most of my classes so I always stood out…along with there only being such few guys who attend in general. I haven't had much of a social life at all maybe because I'm commuter and not such a talkative person. I do wish I went to clubs more often and joined the co-ed soccer team (there are no sports teams at all which is a let down). The girls here are attractive, but no dates and beyond happened for me at all. I did attempt talking to two girls, but they were both snooty towards to me. The students who socialize with each other are those who live in the dorms or are in the performing arts majors.The dorms are about 16 blocks from the campus and I have never physically been there. I was only given a tour of the main campus and not even asked whether I wanted to see the dorms or faculty building. I keep hearing that there is anywhere from 4-8 people living in a dorm room which is crazy. The school is small and not everyone is living on campus to begin with so I don't see why there wouldn't be more room available for those living there. I also hear that the RA's and policies are strict on who can come to visit/spend night.Coming down to a big reason why I will probably have to transfer out is the absurd tuition. Marymount only gave me $3,000 per year with no scholarships and the tuition is over $28,000 per year ($42,000 per year if you dorm). The most aid I got was from FAFSA and NYS Tap award which still was not enough for my parent to not have to take out a few thousand dollars in loans per semester. I don't want to owe anyone up to $50,000 dollars after I graduate. My plan is to take classes at a CUNY to cut the costs and graduate early, but the tuition and fees are really chasing me down. I recommend asking for scholarships and aid if your GPA is a 3.0 or higher which is what I will be doing before I can make the decision on whether or not I want to transfer. I was strongly considering attempting to dorm for the Spring 2016 because I want to enhance my college experience and have more of a social life, but the financial aid office was unable to give me an estimate on how much that would cost and whether or not there were any scholarships that I could receive to bring down the cost.I've only attending for one semester (not a long time) and I am a commuter so my experience may be different from someone who attended for a year or more. I would say that the school is for definitely for those who are into the performing arts (acting/dance/stage). It may also work decently if you are an academic major who just needs a place to attend to take classes and can get the socializing and athletics aspect of college elsewhere (which shouldn't be too difficult because it's NYC so there's tons of places to go and people to meet).I will update this review if I do end up attending for another semester or more.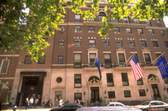 Rankings MMM/MMC appears in

Lists MMM/MMC appears in
Similar Colleges by BUDGET