Breakdown of "Extracurricular Activities" at Rowan
By Major
| | |
| --- | --- |
| Accounting | B+ |
| Aerospace Engineering | C |
| Archaeology | A- |
| Art & Design Department | A- |
| Biology | C+ |
| Business - Management and Administration | B |
| Chemistry | B- |
| Civil Engineering | A- |
| Communications | C+ |
| Computer Science | A- |
| Criminal | A |
| Economics | B |
| Education | B |
| Electrical Engineering | C- |
| Engineering Department | C |
| English | C |
| Finance | A- |
| Fine Arts - Painting/Sculpture/Photography/etc | D- |
| Geography and Geosciences | A+ |
| History/Histories (art history/etc.) | C+ |
| Math | B+ |
| Music - Composition/Theory | A |
| Music - Performance | D- |
| Other | B |
| Perfomance Arts | C+ |
| Physical Therapy/Exercise Science | C |
| Physics | B |
| Political Science | B- |
| Psychology | B- |
| Sociology | B+ |
| Undecided | C+ |
| Video/Media | B |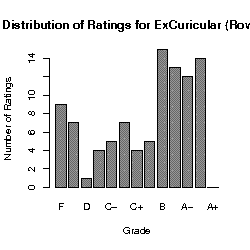 Against similar schools
Extracurricular Activities compared with similar schools in class.
Extracurricular Activities
"
... It is large enough to be diversified and offer a multitude of programs (academic & extracurricular), yet small enough to be personal and offer m...
Read full comment
"
... Whether it's sports, clubs, student government, a work study, a publication, WGLS, or curling up in the library, you will meet other people, man...
Read full comment
"
... 7) there are NOT as many campus activities as they claim to have, most of them are lame ...
Read full comment
"
... There are ALWAYS parties during the weekend but the campus also tries hard to host activities to attract students away from parties as well as en...
Read full comment
"
... Outside of the classroom it was easy to be involved in many activities that prepared me for life by allowing me leadership and group work opport...
Read full comment