The University of Maryland - College Park
Breakdown of "Scholastic Success" at UMD/UMaryland-College Park
By Major
| | |
| --- | --- |
| Accounting | C+ |
| Aerospace Engineering | B+ |
| Agriculture/Horticulture | B- |
| Animal Studies | C |
| Anthropology | B |
| Architecture | B |
| Biology | B- |
| Business - Management and Administration | B |
| Chemical Engineering | A |
| Chemistry | C |
| Civil Engineering | B |
| Communications | B+ |
| Computer Engineering | B+ |
| Computer Science | A- |
| Criminal | A- |
| Cultures/Civilization | D+ |
| Economics | B- |
| Education | A- |
| Electrical Engineering | A- |
| Engineering Department | A- |
| English | B+ |
| Finance | B+ |
| History/Histories (art history/etc.) | B |
| Journalism | B+ |
| Kinesiology | B- |
| Language - French/Spanish/etc. | F |
| Math | A |
| Mechanical Engineering | B- |
| Natural Resources | C |
| Neuroscience/Cognitive Science | A |
| Nutrition | D- |
| Other | C |
| Philosophy | F |
| Physics | B+ |
| Political Science | B+ |
| PreLaw and Legal | B- |
| PreMed and Medical | B+ |
| Psychology | B |
| Public Health | B- |
| Social Work | A- |
| Sociology | B |
| Undecided | C+ |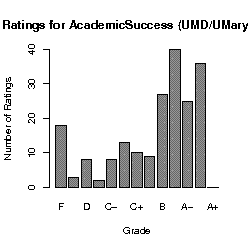 Against similar schools
Scholastic Success compared with similar schools in class.
Scholastic Success
"
... It is unbelievable to me how students who had high gpas in hs and so many extracirriculars then only care about drinking and grades in college .....
Read full comment
"
... Other big departments (engineering, comp sci) seem so obsessed with grades, whereas physics (only 180 majors) seems to care about learning and g...
Read full comment
"
... Professors do not budge on grades, there is no sucking-up, especially with majors that have many quantitative math courses, business econ stem ....
Read full comment