include_once("header.php3"); ?>
Welcome to StudentsReview!
Uncensored college reviews -- Informative, Awesome & Truthful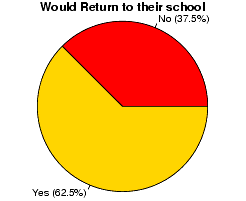 37% of students would not choose their school again.

A Sample College Review
Hocking College
"I am a 2 year waiting NURSING Student. I have waited on the list for 2 years and still have not gotten into my clinical experience. It is starting to get a little rediculous. Expecially when there is such a shortage on nurses but we have people that don't know what they are doing making up these clinical lists. They need to be more organized about the whole ordeal and not j... " more...
Twenty Most Reviewed Universities

Pleased
University Name
City, State
Total
Pensacola Christian College
Pensacola, FL
2610
Bob Jones University
Greenville, SC
822
New York University
New York, NY
544
University of Michigan - Ann Arbor
Ann Arbor, MI
538
Rochester Institute of Technology
Rochester, NY
524
Boston University
Boston, MA
514
University of Houston
Houston, TX
480
Pennsylvania State University
University Park, PA
433
George Washington University
Washington, DC
433
Georgia Institute of Technology
Atlanta, GA
431
University of Illinois Urbana - Champaign
Champaign, IL
419
Savannah College of Art and Design
Savannah, GA
413
University of Southern California
Los Angeles, CA
411
Texas A & M University - College Station
College Station, TX
383
Liberty University
Lynchburg, VA
373
Kettering University
Flint, MI
372
Cornell University
Ithaca, NY
370
Michigan State University
East Lansing, MI
369
State University of New York Binghamton
Vestal, NY
357
James Madison University
Harrisonburg, VA
352
Fordham University
Bronx, NY
350
University of Maryland - College Park
College Park, MD
333
University of California - Berkeley
Berkeley, CA
332
University of Wisconsin - Madison
Madison, WI
322
Iona College
New Rochelle, NY
315
Totals

(104331 : 24964 : 94937)

224232 Total Reviews; 3359 Total Universities Reviewed